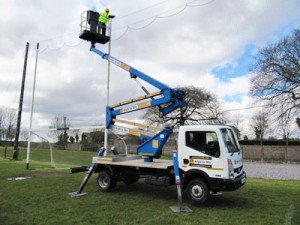 1b IPAF Van-mounted / Truck-mounted (Static Boom) Course
Duration
1 day typically from 8.30am to 4.30pm.
Height for Hire Operator Training on MEWPs and Harness is suitable for MEWP operators working in Republic of Ireland.
IPAF MEWP training is strongly recommended for MEWP operators working in the UK and NI, and may be required on some ROI construction sites. IPAF 3a/3b/1b MEWP Operator.
What MEWPs are covered under IPAF 1b Operator Training?
The IPAF 1b Operator category covers the safe use of Static Booms which generally have outriggers. Static Boom is an overall category name which includes Van-mounted booms, Truck-mounted booms, Trailer-mounted booms or Spider booms on tracks or wheels. Once the delegate successfully completes an IPAF practical test on one of the above types of boom with outriggers, they are permitted to operate the other types of Static Booms under the 1b category, subject to receiving familiarisation on the 1b machine being used IPAF 3a / 3b / 1b MEWP Operator
Extra categories
Additional IPAF categories can be done on the same training day subject to notice eg 3a Mobile Vertical and 3b Mobile Boom.
Location
This one day 1b IPAF Van-mounted / Truck-mounted (Static Boom) course is available from any of our training centres: Dublin, Cork, Portlaoise, Limerick, Belfast, Manchester, London, Glasgow, Newcastle, Midlands / Banbury
On-site training
On-site training on your premises is also available anywhere in the UK and Ireland subject to minimum numbers. A suitable room would be required for on-site training for the theory section of the course, and a Static Boom is needed for the practical. The Operator's Manual and a copy of the current 6 monthly Certificate of Thorough Examination for the machine is required.
Certification
Successful delegates will receive a 1b IPAF PAL Card valid for 5 years and an IPAF Certificate of Training for the 1b Static Boom category. An IPAF safety guide and an IPAF log book will be given to each delegate on the day of training. Photographs for the operator card are taken on site and included in the price.
Course Description
Course content
Introduction and pre-course theory test
MEWP categories
Structural parts
Regulations ISO 18878, PUWER, LOLER, RIDDOR, WAHR, MHSW
Pre-use inspection/handover
Safe operating methods and hazards
Theory test practical training
Practical assessment
Licence renewal & log books
Course evaluation
Trainee Requirements
Candidates for IPAF courses must be at least 16 years of age. They must be medically fit to operate machinery.
PPE Requirements
Trainees must have the appropriate Personal Protective Equipment with them i.e. Helmet, Safety Boots, Hi-Visibility Vest, Harness & Adjustable Restraint Lanyard.
Who Should Attend?
This 1b IPAF Static Boom training course is suitable for anyone who operates Static Booms including Spider booms on tracks or wheels, Van-mounted booms, Truck-mounted booms or Trailer-mounted booms.
Course Objectives
To provide delegates with the essential knowledge required to operate 1b Static Booms efficiently and safely.
Training Methods
Presentation with slides, video, printed course material, demonstration, practical use.
Who Will Benefit?
All those in your organisation who use, supervise or manage the use of 1b Static Booms including Spider booms on tracks or wheels, Van-mounted booms, Truck-mounted booms or Trailer-mounted booms.