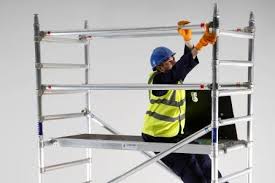 Mobile Access Towers Course 
SOLAS CSCS Mobile Access Towers course is suitable for MEWP operators working in Republic of Ireland. PASMA training is recommended for operators working in the UK and NI.
Duration
I Day SOLAS CSCS Mobile Access Tower training course for candidates with experience.  (The training day is typically 8.30am to 4.30pm)
There is also a SOLAS CSCS 2 Day course available for candidates without experience.
PASMA Towers for Users is a 1 Day course
Location
Mobile Access Towers training is available on-site on your premises anywhere in the Republic of Ireland subject to minimum numbers. A suitable room would be required for on-site training for the theory section of the course, and mobile access towers are needed for the practical. The manufacturer's instruction manual must be available for the training.
The Mobile Access Tower courses are available at our Training Centre in Ashbourne, Co. Meath subject to minimum numbers
Mobile Access Towers Certification
On successful completion candidates will be issued either a SOLAS CSCS Mobile Access Towers card or PASMA certificate and card depending on the programme chosen at the time of booking..
Mobile Access Towers Course Description
Introduction to SOLAS CSCS or PASMA scheme
Health & safety requirements
Hazard identification
Stability of Mobile Access Towers
Function and checking of components prior to use
Practical erection, dismantling and inspection of Mobile Access Towers
Written and practical test
Trainee Requirements
Candidates must be at least 16 years of age.
PPE Requirements
Trainees must have the appropriate Personal Protective Equipment with them i.e. Helmet, Safety Boots, Hi-Viz Vest, Harness & Lanyard.
Who Should Attend?
This Mobile Access Tower training course is suitable for anyone who wishes to learn how to erect, dismantle,and inspect Aluminium Scaffold Towers.
Course Objectives
To provide delegates with the essential knowledge required to use, inspect and store Aluminium Scaffold Towers efficiently and safely.
Training Methods
Presentation with slides, video, printed course material, demonstration, practical use.
Who Will Benefit?
All those in your organisation who use, supervise or manage the use of Mobile Access Towers.